Department of Informatics
Department of Informatics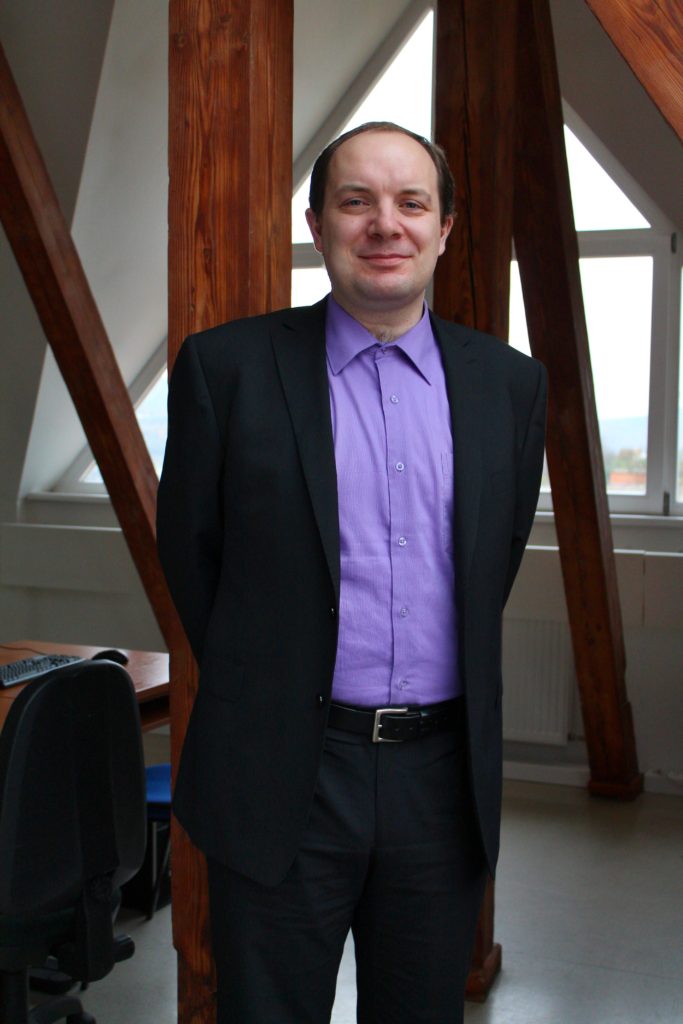 Welcome at the site dedicated to the Department of Informatics!

Information technologies have become an indispensable part of human life. With a bit of exaggeration, we can say that without them our world could collapse in a flash. On the one hand, these sophisticated and complicated systems make our lives easier, but on the other, they make people vulnerable. However, you can't stop the progress, especially in this sphere, that is why here we are — the Department of Informatics, offering you perspective and interesting field of study.
The main study field at our department is bachelor's program of Application informatics-Information systems. During three-year course, graduates of this course will acquire knowledge and practical experience in the field of programming, database, computer networks and hardware. Speciality of our study is orientation towards web technologies (web applications, application layer protocols, web services, etc.) and towards the problems of securing software systems reliability and fault tolerance. Graduates of this study program can continue their study at other universities or find employment as programmers, computer networks administrators, developers and managers of web applications, experts and consultants on software systems reliability.
In future, we are planning to expand the study program with a follow-up master's degree program oriented towards software systems and securing their reliability and fault tolerance.
The department disposes of specialist laboratories which enable students to acquire practical experience in the field of information technologies.
We will be pleased if you opt for our Department to do your undergraduate course, and will be glad to greet you among our students.
RNDr. Jiří Škvor, Ph.D.
Head of the Department of Informatics
Study
Currently, at the Department of Informatics you can not only do bachelor's degree program in Information Systems and Informatics (two-subject programs are studied in combination with another subject), but also educational courses within different forms of Lifelong learning. Since 2006, the Department of Informatics has been accredited center of ECDL and local academy in the frameworks of Cisco Networking program. Due to this, at our department you can acquire internationally recognized certificates in the field of basic information technologies and in the field of computer networks.
We offer opportunity to study three-year full-time bachelor's degree program of Applied Informatics, which is oriented towards programming, databases and internet technologies. If you are interested, please follow the web site of the Department.
Further on, we are preparing the introduction of a full-time three-year bachelor's degree program in Informatics with orientation towards teaching, which is going to be an ideal first level of higher education oriented towards teacher's qualification.
Department of informatics at the Faculty of Science in Usti nad Labem (UJEP) is the only higher education institution in the Usti region which prepares specialists in informatics with bachelor's and master's degrees.
Science and Research
Along with teaching, we are also engaged in research, development and publishing activities, organize specialist events, etc. The department staff cooperate in a number of projects and activities in the framework of our University, other higher education institutions in the Czech Republic, as well as in projects with international participation. We are focusing on internet technologies, software systems reliability, modern approaches to programming, numeric simulation, radio-biologic methods, security of wireless networks, etc.
Life at the Department
The Department of Informatics is registered in the Microsoft Program of Lifelong learning referred to as MSDN Academic Alliance (Microsoft DreamSpark). The program is designed for the institutions of higher learning oriented towards software development. Within the framework of MSDN AA licence, students get the possibility to use the most modern versions of the application software developed by Microsoft Co. Due to this, our students are able to obtain the software for their personal computers free of charge, and use it for their work related to their learning, their personal projects, as well as outside the school.
At the Department of Informatics, students have at their disposal computer classrooms (overall of 3 classrooms with over 70 computers), a study room and two technical laboratories. One of the laboratories is oriented towards hardware and electronics, the other — towards computer networks. All the computers are connected to computer network of 100 Mbps — 1Gbps. For students with their own notebooks, the majority of halls are covered by WiFi wireless network Eduroam.
Admission Procedure
For all bachelor's degree programs, students are admitted without entrance examinations.
Contacts
University of J. E. Purkinje in Usti nad Labem
Department of Informatics
Ceske mladeze 8
400 96 Usti nad Labem
Phone: +420 475 283 909
E‑mail: ki@ujep.cz
Contact person:
RNDr. Jiří Škvor, Ph.D.
Phone: +420 475 283 901
E‑mail: jskvor@physics.ujep.cz